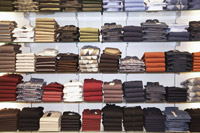 With more than 17 million sold in its first two years, the iPhone is today's pervasive communications device offering a technology platform that enables retailers to reach millions of current and potential consumers through unique applications. Retailers across the spectrum from national "big box" stores to local boutiques can benefit from the sales, customer service, name recognition and brand loyalty opportunities iPhone apps can deliver.
With the personal, direct communications iPhone applications enable, retailers of all sizes can play on a level field. Small boutiques can more effectively and affordably compete with the marketing budgets of larger national chains, which can leverage personalized communications to more intimately connect with consumers. iPhone applications also enable retailers to gather customer demographics so they can tailor offers based on geographic locations and buying patterns.
Potential uses of retail-branded iPhone apps include:
• Notifying customers when orders are ready for pick up
• Delivering special coupons and sale offers directly to consumers
• Sending birthday or other occasion wishes along with special offers
• Cross-promoting with complimentary retailers (for example, invite those attending a movie to come by for dessert after the show)
• Sending notifications of weekly or monthly specials
• Promoting special events
• Conducting customer surveys
• Hosting weekly store ads from which customers can directly create shopping lists
These applications are just a sampling of the potential uses Gigabit has in store for retail companies. We provide the needed programming knowledge to bring an application to life.
Click here
to learn how Gigabit-built iPhone applications can help you build your brand.