PocketDoc quickly answers health and wellness questions anytime, anyplace. Whether you need a first aid reference, details on diseases and illnesses, or treatment information, turn to PocketDoc for all the answers to your every day health questions.
For anyone who may need fast and clear medical guidance — parents, caregivers, coaches, outdoors enthusiasts — PocketDoc is a superlative information resource for illness, injury, and emergency situations. PocketDoc is an ideal medical reference to help keep you and your loved ones healthy, as well as a must-have safety tool.
PocketDoc gives you unparalleled access to answers for all your health and safety 'what should I do?' questions. The application covers a wide range of health topics for all ages.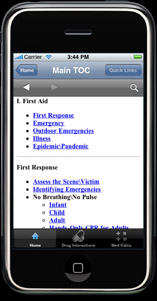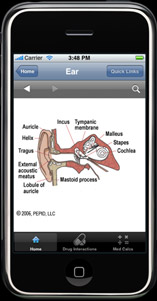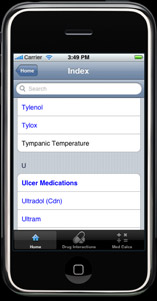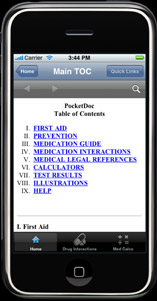 View More Screen Shots >>
PocketDoc Includes:
• FIRST AID MANUAL
– From scrapes and bruises to a suspected heart attack, each topic gives you symptoms, possible causes and how to treat and respond to the specific issue.
• DRUG GUIDE
– The drug guide gives you everything you need to know about your medication, including why the drug is prescribed, how it should be stored, potential side effects and even overdose management.
• DRUG INTERACTIONS
– Check for harmful combinations between prescriptions, over-the-counters, herbals supplements, vitamins and even foods. PocketDoc's drug interactions feature is ideal for anyone who takes multiple medications and wants to be safe.
• PREVENTION
– PocketDoc offers tips on things you can do to keep loved ones out of harm's way, and how to be prepared for situations before they arise.
• ILLUSTRATIONS
– See how to administer the Heimlich maneuver or identify poison oak. At a glance, PocketDoc will guide you with detailed and informative illustrations.
• ILLNESSES & INJURIES
– Identify and properly care for illness and injuries by reading the symptoms, causes and treatments for hundreds of illnesses and common injuries.
• HEALTH CALCULATORS
– Use our medical calculators to determine body mass index, ideal weight and even the expected delivery date for your baby. These quick and easy calculators will help you get accurate information to keep you on track for a healthier lifestyle.
Created in collaboration with PEPID, LLC
.