Gigabit specializes in applications for Apple's iPhone, which is used by nearly 20 million consumers in more than 80 countries across the globe. With tens of thousands of applications already downloaded nearly 800 million times, companies are using the iPhone platform to create meaningful mobile experiences for target customers, as well as learn more about customers' needs through applications that add value to the increasingly popular mobile lifestyle. Companies that don't harness the power of smartphone technology will simply be left behind, missing out on infinite opportunities to connect with existing and potential customers on a direct, personal level.

The possibilities for iPhone applications are as varied as the organizations we serve, and Gigabit is the perfect partner to bring dynamic mobile applications to life.
What's New
HealthSync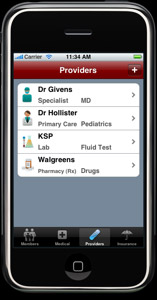 Gigabit's HealthSync iPhone application is a comprehensive personal medical records management, maintenance and tracking tool. A user-friendly application available for download from the iTunes App Store, HealthSync places the control over managing medical records directly on the finger tips of iPhone users.
More on HeathSync >>
View App in iTunes Store >>